Hotel, Travel &Activities
2017 Hotel, Travel &Activities
Hotel
Westin Nova Scotian
Located in the heart of downtown Halifax, our host hotel, the Westin Nova Scotian, offers easy access to all that downtown has to offer.
Easy access to the scenic harbourfront, shopping and dining you can experience everything that Halifax has to offer.
Join us in Halifax, July 5-7 for another exciting Conference.
Hotel Accommodation
The Westin Nova Scotian is providing a special room rate to CASSA delegates ($189/night single) for guests staying between July 4 – July 9. The above room rate includes:
Complimentary wi-fi in guest rooms
Complimentary access to Health Club and Indoor Pools
The hotel is holding space for CASSA delegates until June 2nd, 2017. To book your room:
Contact the hotel at 902.496.8585 and indicate you are a part of the CASSA 2017 National Conference.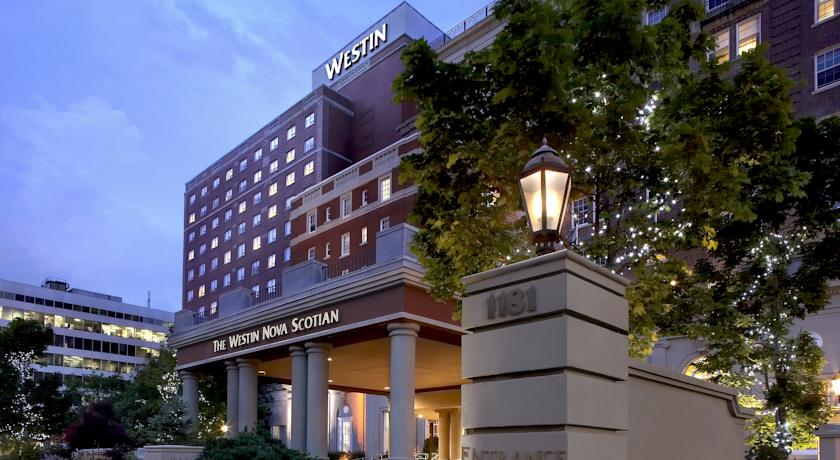 When the "Nova Scotian" opened its doors on June 23, 1930 in Halifax, Nova Scotia it boasted 130 rooms, five suites and an elegant ballroom all reminiscent of grand hotels of Europe and the only one of its kind in Eastern Canada.
The Nova Scotian is one of the original railroad hotels owned by Canadian National Railways. These hotels, across Canada in the 1930s and 1940s linked the nation from coast to coast. The Nova Scotian connected Halifax to the rest of Canada.
Today the AAA Four Diamond hotel offers 310 guestrooms, 10 suites, 23,000 square feet of recently upgraded convention space and features Westin's signature product including the Heavenly Beds and linens.
---
Courtyard Halifax Downtown
This award winning hotel offers the perfect location, within walking distance of the waterfront, convention centre and main attractions. Enjoy nearby theatres, museums, shopping and art galleries. The Courtyard provides first-class service and amenities including spacious rooms, beautiful harbour views, 24 hour Fitness Centre, indoor pool and complimentary wireless high-speed Internet.
Hotel Accommodation
The Courtyard Halifax Downtown (Marriott) is providing a special room rate to CASSA delegates ($199/night single) for guests staying between July 4 – July 8. The above room rate includes:
Free High Speed Internet
Fitness Center, Pool
The hotel is holding space for CASSA delegates until June 4th, 2017. To book your room:
Contact the hotel at 902-428-1900 and ask to book under the CASSA group rate.
Online: Book Your Room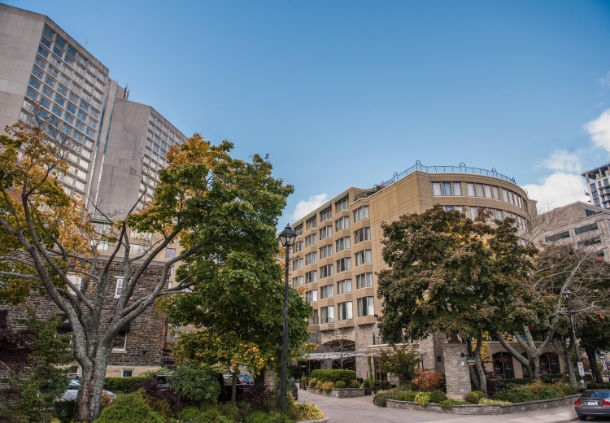 This downtown Halifax hotel features a new lobby with inviting, flexible spaces to work or relax in, free Wi-Fi throughout and easy access to the latest news, weather and airport conditions via a GoBoard™. The highlight of the new lobby experience is The Bistro - Eat. Drink. Connect.™ which provides guests with healthy food and beverage offerings in the morning and evening dinner service with cocktails.
---
Travel
By Air
WestJet is pleased to offer a 10% discount on the base fare* for travel between Halifax and anywhere WestJet flies in North America.
Book by: July 14, 2017 (9:59 p.m. MT)
Travel from: June 28-July 14, 2017
Blackout dates: June 29-July 4, 2017
Coupon Code: NAAAOGG
Travel Agent, use only this promo code: YHZ01
For details on how to complete a booking with these discount codes, please visit westjet.com/convention-discount. Please use the Promo and Coupon code if booking with a Travel Agent.
Activities
Optional Tours
1/2 day Halifax/Peggy's Cove Tour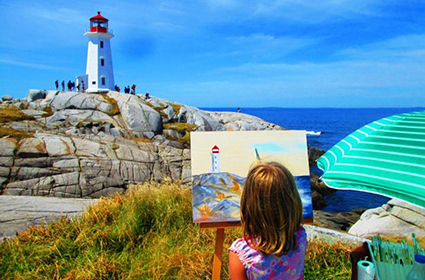 Date: Wednesday July 5
Departure Time: 12:00 pm
$35.00 plus 15% = $40.25 per person
Join us for a 4 hour guided tour of Peggy's Cove. This picture postcard village, on the rugged Atlantic shoreline, stands on solid rock above the crashing surf. The lighthouse is the most photographed lighthouse in the world. Transportation is done by coach bus.
Enjoy some free time to explore the rocks, the trails, the village and the gift shop.
Harbour Hopper Tour
Date: Thursday July 6
Departure Time: 10:00 am
Adult $37.10 plus 15% = $42.67
Senior $33.39 plus 15% = $38.40
Youth (6-15) $21.19 plus 15% = $24.37
Child (1-5) $12.71 plus 15% = $14.62
Child (0-1) Free
Journey the streets of historic downtown Halifax aboard the Harbour Hopper - the most popular tour in Atlantic Canada! Visit historical points of interest such as St. Paul's Church, Citadel Hill, Public Gardens, Government House, City Hall, the Maritime Museum of the Atlantic and more! Then, brace yourself as you cast off into Halifax Harbour without even leaving your seat!
Enjoy a mariner's view of Halifax's naval fleet, spectacular harbourfront and beautiful skylines of both Halifax and Dartmouth. This is a fully narrated tour that includes many interesting historical topics including the Halifax Explosion and charming Halifax folklore! *Tour begins and ends at 5050 Salter Street, along the boardwalk
Guided Tour of the Canadian Museum of Immigration at Pier 21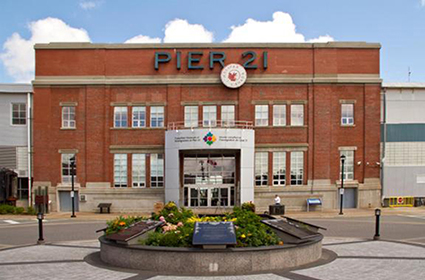 Date: Thursday July 6
Departure Time: 2:45 pm
Cost included in Registration
Join us at Pier 21 and discover the Museum's exhibition dedicated to the years when Pier 21 was open as an immigration shed. Listen to the personal stories of diverse immigrants from all over the world in our 20 minute contemporary bilingual film in Canada. Be sure to research your family's immigration history in the Scotiabank Family History Centre and contribute your immigration story to their growing collection.
---